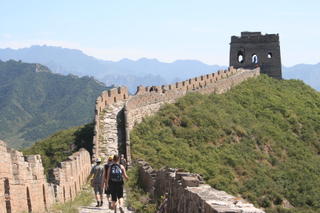 It maybe a complete myth that you can see it from space, but there is no doubt that it is indeed a great wall.
Our day began early as we got up at 6am to catch the bus which took 3.5 squashed and hair-raising hours to work it's way through the Beijing traffic out into the country side. The roads became narrower and narrower and we were surprised how remote our final destination was. It took another half hour walk along a narrow path before we finally got our first view of the wall.
Sometimes these famous landmarks fail to live up to the hype, but not this one - we were all stunned by the wall, stretching off into the distance over the endless hills in both directions. The blue sky certainly helped. The first part we reached had been carefully restored, but after a while we reached parts that were in a much worse state. We were amazed at how steep some of the sections are - it was really quite hard work to clamber up. Apparently, the wall never really served it's intended purpose at all - it took just too many people to defend it effectively. It was, however, highly sucessful as a transport route - a fact which baffled us as we struggled up and down the endless undulations.
In total we passed 30 towers, a total length of about 10km, and we were pretty [very-Rachel] tired. It was a really special day.
Not quite perfect though. From the moment we stepped of the bus, we were greeted by various hawkers. They were very sweet, telling us the Chinese names for various flowers and insects and helping the girls on the steep parts. Little did we realise that they would follow us half way along the wall. They universally claimed to be 'Mongolian farmers' which made us wonder if there are vast areas of abandoned farmland up in Mongolia, gone to waste as the population decamped enmass to harass tourists on the wall. Soon we each had our individual 'Mongolian farmer' guiding our way, telling us how many steps we'd just climbed and making us feel very unfit. We of course knew the big sell would come soon, and indeed when we reached the half-way point out came the books, t-shirts, beer etc, etc and forlorn heartbreaking expressions when we politely refused. The second part of the walk we were left to stroll blissfully in peace.
The administration of this particular section of the wall(near Simatai)is clearly not under any central authority. We had to pay three for three different 'tickets' along the section we walked on, and it seemed each bit was run by its own tribe. This is probably why our hawkers have to stop halfway. The problem with this is that no work whatsoever seems to be taking place to preserve the wall - none of the money we paid was going towards maintaining the structures. The last restorations were done over 20 years ago and parts are clearly deteriorating fast, a process that will only accelerate as tourism inevitably takes off here in the run up to the Olympics.
---