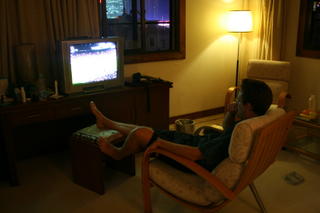 It was with perhaps a disproportionate sense of glee the we discovered the Manchester Derby was showing live on TV when we got back to our room last night. So we settled into our arm chairs and watched the action as the bright lights of Shanghai flashed away in the background. We got nearly as excited as the Chinese commentators when Andy Cole (of all people!) almost won it for City with the last kick of the match, but alas, it wasn't to be. Great result for City nevertheless.
These time differences are curious thing. The match kicked off at 3pm Saturday in Manchester, and we went to bed at the end of the game at about midnight Chinese time. We just woke up to a grey Sunday morning here to see that Kim Clijsters winning her first major title against Mary Pierce in the US open was now on the box. That match started at about 8.30pm New York time, still on Saturday!
Today is our last full day in China. Tomorrow we are planning to catch the Maglev train (430kmph!) to the airport from where we are booked on a lunchtime flight back to Tokyo. We then have a couple of days to eat sushi and shop before returning to Montreal on Thursday. It will be really good fun to catch up with everybody. Then, a week tomorrow (Mon 19th) we commence the final leg of our trip, to London, where the adventure really begins!
---