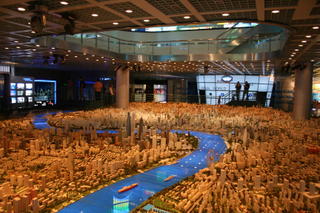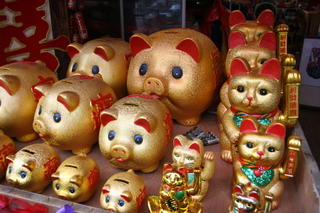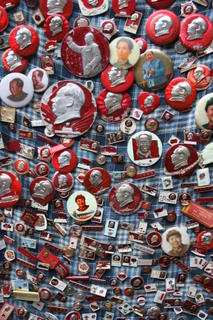 We spent our last day exploring a few more corners of Shanghai. First, we went to the Urban planning museum. Steve went to one in Beijing, and came across a 300 sq metres model of the city. This time I didn't want to miss out. The model of Shanghai was a similar size, and showed the city as it will be in 2010 for the Expo. The Expo site is huge, and there are some more bizarre skyscrapers still to be added to the already colourful Shanghai skyline. The highlight of the place was a 360 degree projection room, that took us on a flythrough around the city of 2010, past downtown, the maglev train station, airport and Expo site. So that saves us a trip in 2010!
Later in the day, we went to investigate a recommended antique and tourist shopping area. It proved rather disappointing as it was mostly piles of tat for sale, but Steve found some interesting arrays of Mao memorabilia, and there were some quirky nearby alleys strung with wires, where the buildings overhang and threaten to collapse into the alley itself.
We also went to explore a Norman Foster building at the south end of the Bund. It's a pretty uninspiring corporate building, and was fairly deserted as it's a Sunday. We walked in like we knew where we were going, though it took us 3 attempts to find the set of lifts that took us right up to the top floor. It was worth it though. We were in the top executive floors, where 4 terraced floors of open-plan offices faced a huge glass wall. The top floor seemed to be for food and coffee, with an incredible walkway across the glass wall where bar stools looked out on the view (of course, I had to go try it out (see photo). Then we strolled back out onto the street. Nice.
We had planned on a glam night out at the top of the tallest building in China (at the bar of the Grand Hyatt Hotel to be precise) but the weather has closed in, and we could see from our room that the top half of the building is immersed in cloud. So instead we went for a nice meal next door, and it was very tasty, though when we asked for water, we were served a ridiculous bottle of still water from South Africa that was bottled in Italy and cost 55 yuan (8 bucks). We'll not be venturing out again tonight - the typhoon is supposed to hit here later, though so far its just windy and rainy of Manchester levels, nothing too dramatic. Hopefully it'll clear up tomorrow ready for our flight back to Tokyo...
---